Join Our Team
Join Our Team
19 September 2019 (by admin)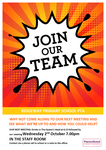 Our next meeting will be on Wednesday 2nd October at 7:00pm in school, preceded by an informal drinks/getting to know you meeting at 6:15pm in The Queen's Head.
All welcome; do come along to find out how your PTA makes a difference to your child's education here at Ridgeway. We support many initiatives to enhance the children's learning and to make memories for all our children and we appreciate all offers of help and support.
For more information on the impact a successful PTA can make on a child's learning please check out the PTA page on the school website. We look forward to welcoming you on the 2nd of October.