Midday Supervisor Needed for our children
Midday Supervisor Needed for our children
9 September 2019 (by admin)
We wish to appoint a warm, friendly and caring person to join our school family as soon as possible.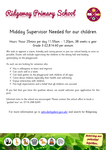 If you are interested, or know anyone who is, please go to https://jobs.derbyshire.gov.uk/education-non-teac…/19245.job to apply
Please can you share this post to help us spread the word about this position? Thanks in advance.
Share this: