Key Worker - Class Page
Welcome to our Key Worker Class Page. This is where you will find information about what we are doing in school during the closure. We will keep the staffing time table (below) up-to-date so that you and your child(ren) know who in school each day. We will also try and post photos of the children across the coming weeks.
Remember, please:
Send your child with snack (of your choice!)
Send your child with a water bottle
Send your child with their Remote Learning Pack & Exercise book
Children do not need to come to school in uniform. However, please ensure that they are in appropriate clothing for running around at playtime and wearing trainers for PE style activities.
NO technology, such as mobile phones, is allowed, as usual.
All normal school rules will apply whilst on site.
Follow the latest advice from the Government and do not send your children if anyone in your household is showing symptoms of Coronavirus.
School will be open from 8.45am until 3.30pm as usual.
Please let us know if your child is not going to be attending on a day you requested - we will be following normal absence procedures if a child does not attend.
You can drop off late or pick up early but we ask that you let us know in advance.

The School phone will be manned during these times as will emergency mobile (07519 753708) should you need to contact school.
Social Distancing:
Additional distancing measures are now in place.
Desks are 2-metres apart
Children remain at their desks
Numbers of children are limited in different rooms
Additional classrooms are in use - siblings and friends may not be in the same room
No contact games are allowed - including football
Children have to remain distanced during play times.
We know how important it is for children and parents to know who will be in school on any given day.
As such the Duty Staffing Rota below let's you all know who will be in school, in both the office and in the classroom.
Rota update for 10th May 2020
Duty Staffing Rota
Monday
Tuesday
Wednesday
Thursday
Friday
Office

Mr Evans

Mrs Carnall

Mr Wilson

Mr Evans

Mr Evans

Mrs Carnall

Mr Wilson

Mr Evans

Mr Wilson

Mr Evans

Mrs Carnall

Mr Wilson

Classroom

Mrs Potts

Miss Crowley

Miss Riley

Mr Townsend

Mrs Gelipter

Mrs Tingle

Mr Thornton / Mrs Naylor *

Mrs Evans

Miss Crowley

Miss Riley

Mrs Naylor

Mrs Ollerenshaw

Mrs Geddes

Mr Thornton

Mrs Evans

Mr Townsend

Mr Thornton

Mrs Jenkinson

Mrs Naylor

Miss Trotter

Miss Trotter

Mrs Gelipter

Mrs Tingle
*Alternate weeks
What happened when the girls took over the school?
Monday saw, as well as all of the Remote Learning, the creation of personalised photo frames and the start of project Rainbow. We wanted to be part of the fun and create giant rainbow for the school office windows. We set the Year 5 & 6s (all 3 of them) the challenge of making it happen. They were amazing. The measured and cut the paper and drew the rainbow using string to keep the arc accurate. Then came the painting. Tuesday saw the completion of the rainbow and the addition of this weeks focus, the sunshine, and up went the display. Well done guys, an amazing job.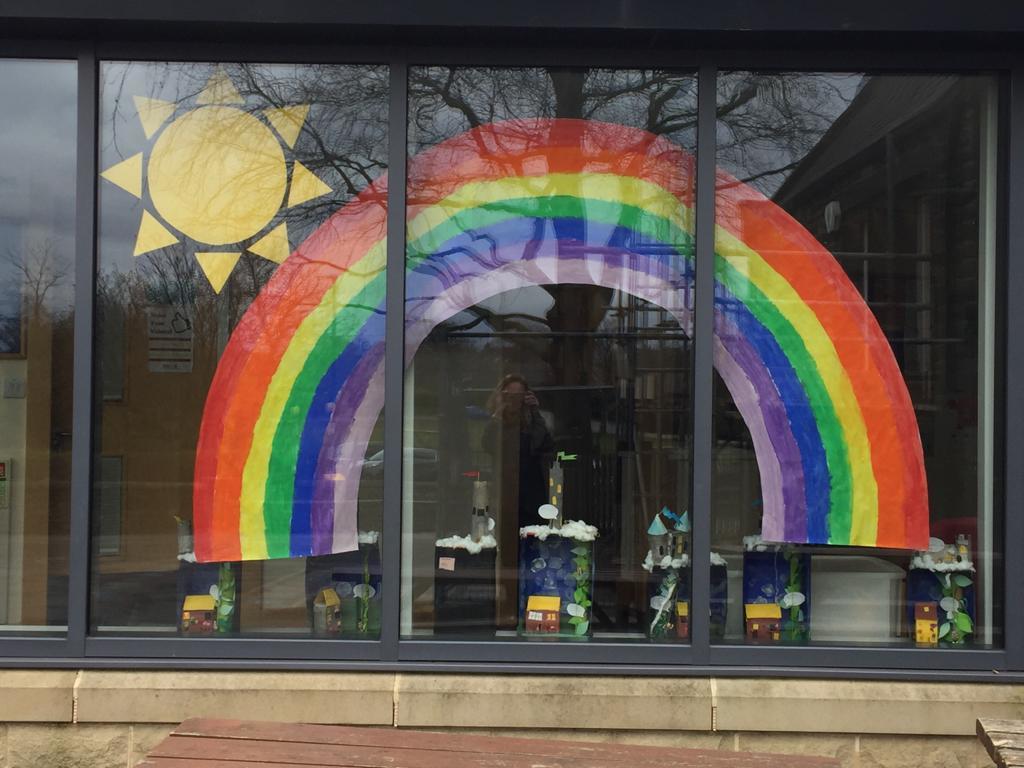 Tuesday also saw the children baking. They created some tasty looking biscuits as you can see. The children have been a delight everyday. Enjoy the photos below.
Monday 23rd March
What a lovely day we have had. The children have been an absolute credit. After putting so much effort into the Joe Wick PE session, they worked really hard to complete their Remote Learning tasks. Then we had fun at the park, played games and the children made beautiful dream catchers with Mrs Geddes. They have been a credit to you all. I am looking forward to next Monday already.