September start key information
Hello everyone and welcome to our EYFS page. We cannot wait to see you all again soon and get to know you and your families really well.
Please find below important information about how things will work from September:
Mrs Potts will be working every Monday, Tuesday and alternate Wednesday. Miss Peverelle will be working every alternate Wednesday and every Thursday and Friday.

We are lucky to also have Mrs Mrs Mitchell and Miss Riley in our team.

P.E will be every Monday and Thursday. Please ensure that your child has has a full P.E kit (black joggers, white t-shirt, black jumper and pumps) in a P.E bag and that everything is labelled. We will keep this bag in school for the half term on your child's peg.

We will be sending home a labelled book bag in the coming week with a book that your child will have chosen to read with you. This will be a story book for you to share with your child as a family and not a phonetically decodeable book. Book bags are to be returned to school every day, books will be changed every Wednesday.

Please ensure that your child has a labelled water bottle. School will provide a snack (fruit) and milk.

Please also ensure that all clothing is clearly labelled.

Your child has a labelled peg outside the classroom and will be shown where to hang their coats and lunch boxes (if they choose packed lunch).
On the first day, we politely ask that your child comes in to the classroom independently - just as we did for transition.
We look forward to seeing you all soon,
The EYFS team
Update: Summer 2 2022. PE will be every Monday and Thursday. Please could the children have their full PE kit in school from Monday 13th June 2022. Thank you!
Reading. Please could everyone continue to bring their books bags to school every day. Books will continue to be changed every Wednesday. Please do record all reading in the records provided. Thank you for your ongoing support.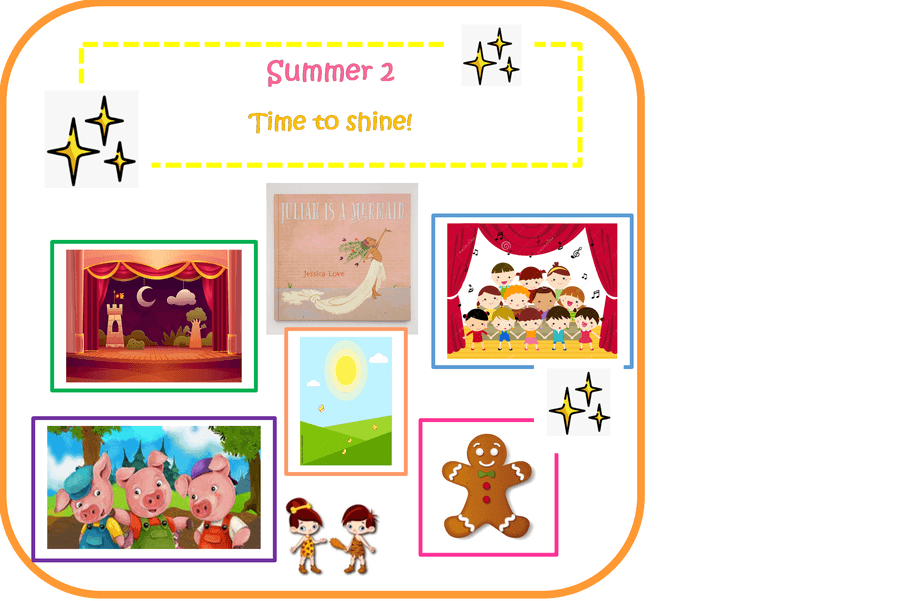 Summer 2 - It's time to shine!
Wow - can you believe that we are in our final half term for EYFS? Where does the time go? We hope that all families had a super break!
In this final half term, we continue to focus on our 3 prime areas.
Communication and language: We continue to provide a language-rich environment for the children where new and varied vocabulary is modelled through out the day. The children have opportunities to speak to each other and us all day. We will be re-telling well-loved traditional tales this half term, as well as continuing to express our own ideas and feelings using full sentences including use of past, present and future tenses and making use of conjunctions.
Physical development: We continue to provide lots of opportunities both inside and outside to develop our fine and gross motor skills and we have a very important job: to pratise for our SPORTS DAY! We look forward to sharing that with you very soon :-)
PSED: This half term, we will be really focusing on building our confidence to try new activities and show independence, resilience and perseverance. We will be trying to give focused attention to what the teacher says, responding appropriately even when engaged in activity, and show an ability to follow instructions involving several ideas or actions. As always, we will also be working on developing managing our own feelings and understanding those of others.
Magic mathematicians...
In maths today we played dominoes and had a great time developing our talking, listening and turn-taking skills as well as spotting those double numbers! Super teamwork, Cave Kids! :)
We have also learned a 'Doubling-machine' song, may be you could sing along at home? :)
Update: Summer term 2022. PE will be every Monday and Thursday. Please could the children have their full PE kit in school from Monday 25th April 2022. Thank you!
Reading. Please could everyone continue to bring their books bags to school every day. Books will continue to be changed every Wednesday. Please do record all reading in the records provided. Thank you for your ongoing support.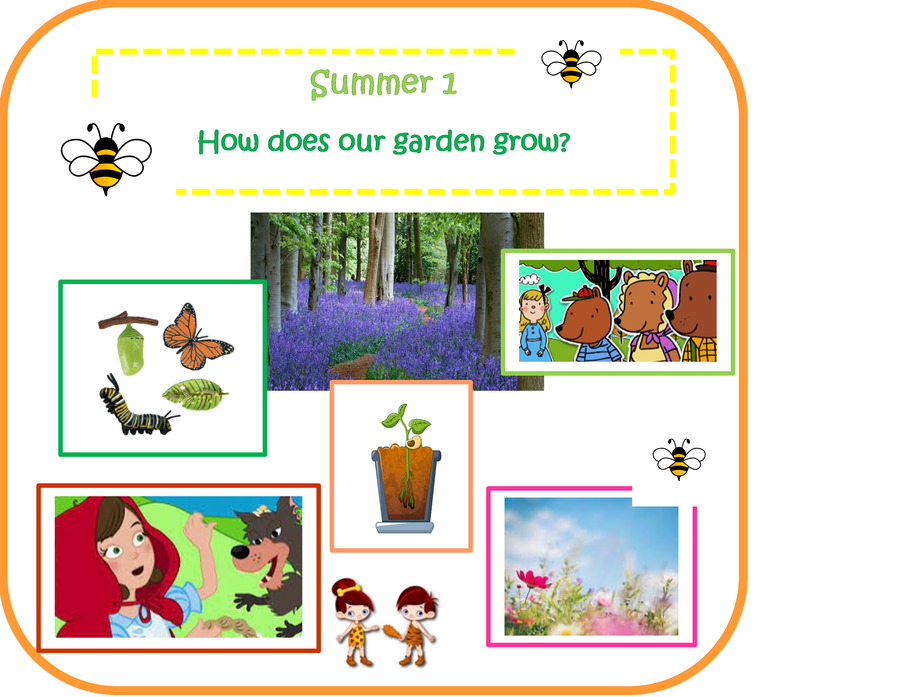 Summer 1 - How does your garden grow?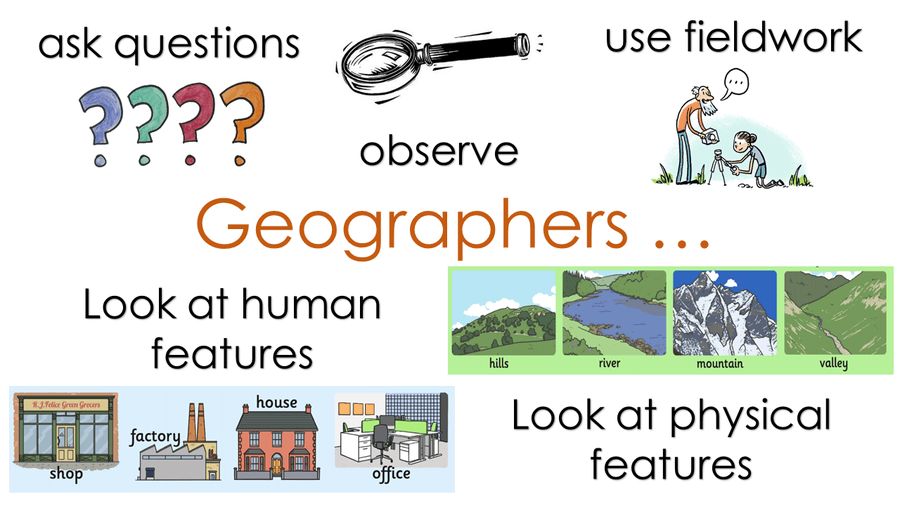 Wow! Summer term 1 already, where does the time go when you're having fun? We cannot wait to welcome the children back this week following the Easter break - we hope that you all had a wonderful time! This half term we become Geographers again as ask, 'How does your garden grow?'
As always, the 3 prime areas: Communication and Language, Personal, Social and Emotional Development and Physical Development will be at the forefront of our learning as these are the building blocks that form the foundation for the children to continue on with their learning journey through school. We will be spending lots of time in continuous provision, meaning the children have lots of time to choose, play, interact with us and their friends, talk, share ideas, learn collaboratively and us adults can support them in ensuring they are working towards their individual next steps.
Communication and Language: The children talk ALL day :-) We will be focusing this half term on expressing our ideas using full sentences, including in different tenses and using conjunctions. We model language all day in our language-rich environment.
PSED: We will continue to work on understanding our feelings and those of others and this half term, we will really be focusing on team work; we can do lots more when we all work together :-)
Physical Development: We have lots of opportunities in our indoor and outdoor learning space to develop our gross and fine motor skills every day. We cannot wait to see what the children create in our de-constructed role-play area, when using junk modelling, playdoh, squishy foam and in our creative-crafting area. The children also love P.E.
As Geographers in EYFS, we will be:
Drawing information from maps, recognising some similarities and differences between life in this country and others, exploring our natural world around us, describing our environment using knowledge from observation, discussion, stories, non-fiction texts and maps and begin to understand some important processes and changes in the natural world around us.

A Geography driver such as this half -term, also lends itself nicely to science-linked Early Learning Goals and as such, we will be describe what we see, hear and feel while we are outside and understanding the effect of changing seasons on the natural world around us.
In Literacy, we will be working on our re-tell skills using two focus narratives: Little Red Riding Hood and Goldilocks and the 3 bears. We have many other high-quality texts that we will be using to teach from too, please check the weekly newsletter to see what we are up to!
In phonics, we continue our Phase 3 learning. Please continue to read regularly at home with your child - over reading a text is key to improving fluency.
In maths, we will continue to have mini maths-meets based on White Rose Maths that is then further embedded in continuous provision. We are working on understanding the numbers 10-15.
Please do check in on SeeSaw and on this page to see what we have been up to!
We look forward to seeing you all really soon,
The EYFS Team :-)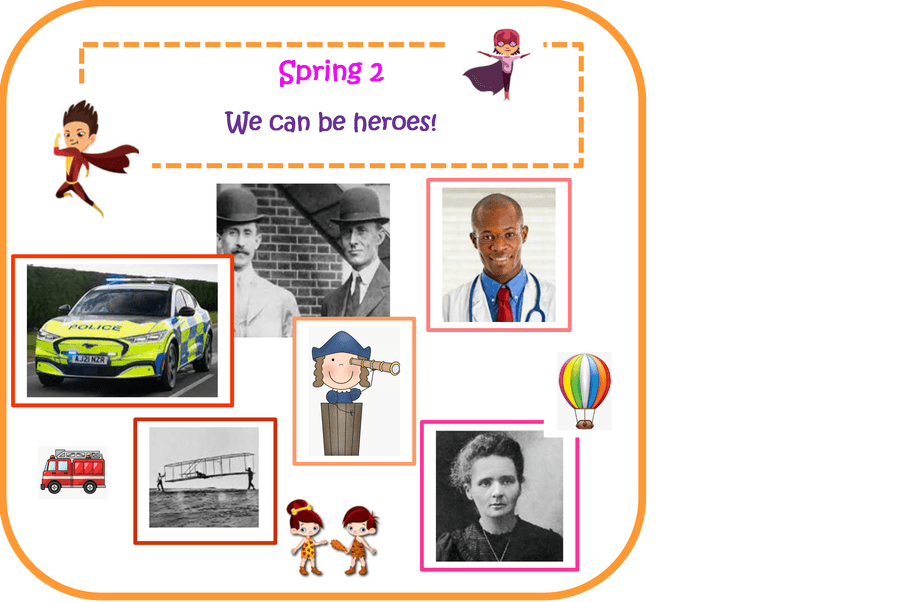 Spring 2 - We can be heroes!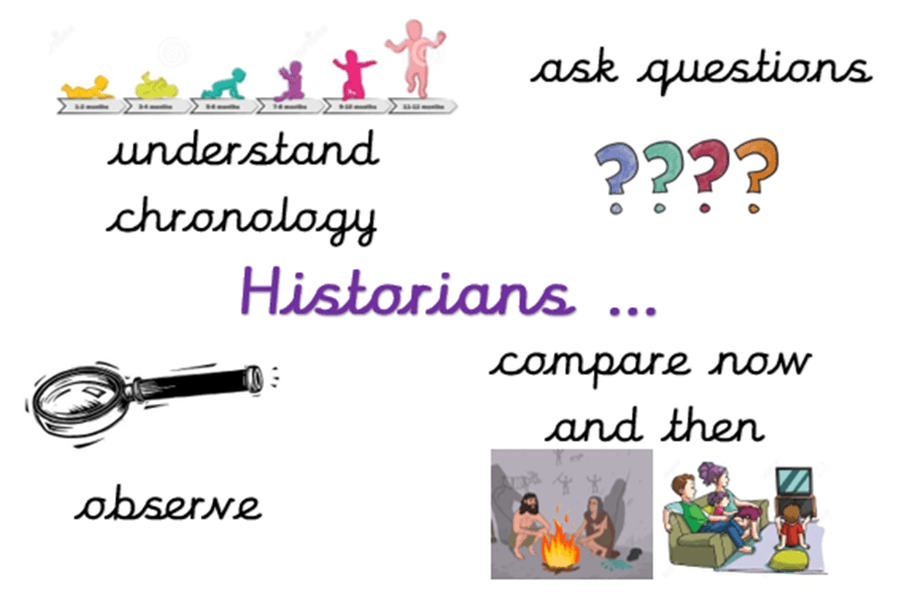 Hello everyone! We hope that you had a super break! This half term, we will be beginning our new topic, 'We can be heroes' with a history driver.
Continuous Provision in action...
Continuous Provision is all about allowing the children to have freedom and autonomy over their chosen activities to develop the 3 prime areas in Early Years. These are: Communication & Language, PSED (Personal, Social and Emotional Development and Physical Development (fine and gross motor). We give the children opportunities for them to lead their learning and then watch in awe as the magic unfolds. The children decided that they wanted to make something with a huge box in provision. It was fascinating to see the teamwork and communication skills develop amongst the children as the box became a vehicle, then a plane, then it needed wings, a roof, a door and even a pilot (or two). Within these 2 hours of learning (yes, we were that engrossed!), we used our communication skills to work as a team, to listen and share ideas, we used our Physical Development skills to draw, cut and stick and we used our PSED skills to work together - expressing our needs and ideas whilst listening to those of others.
At one point a helicopter flew overhead and this allowed us to use our observational skills and inspired us to develop our ideas further.
Well done Cave Kids, it is a privilege to be your teachers!
Practical maths in EYFS
Here we are 'physically' manipulating our numbers 1-10. We did a great job creating numbers out of blocks and seeing which is bigger, as well as spotting the missing number in our teddybear bed... Not to mention using our numicon to work on our composition of numbers. Well done Cave Kids - we are proud of you!
Past or present?
History is our driving subject this half term and we have been working really hard to learn about how some things happened in the past, some are happening now and how we can tell the difference between the two using the sources we have. Here we are comparing pictures of families in the past with current pictures of them. We had lots of discussion around how we knew if they were from the past or present and worked in small groups to decide where the pictures fitted. We have also watched film clips of people landing on the moon from years ago to one just this year; we were excited to explain how we knew which was an older clip and which was more recent. Well done Cave Kids, super learning!
Fire! Fire!
We were so excited to have a visit from The South Yorkshire Fire Service! Meeting real-life firemen and being able to not only sit in a fire engine but spray the water jets was so much fun. It brought our topic to life and also gave us the opportunity to use our C&L skills as we asked lots of questions and spoke confidently to new people who we have never met before. A huge thank you to the firemen for taking time out of their schedule to visit us!
What a pleasure it is...
...to see children independently applying their learning in provision; they even became teachers and delivered their own phonics lessons! :-)
Morning Yoga!
What a great way to energise for the day - as well as practise our listening skills! :-)
Exploring in Art
We are becoming much more confident at independently using varied tools to paint with; this is an important skill as the children develop their understanding of how a roller might give a different result to a brush, or a finger or a little scrunched up paper. We are learning that even though our pictures might have a similar theme, the final outcomes might be very different as we are all individual artists!
P.E gives us so many opportunities...
To practise our listening skills, our communication skills, our team work skills as well as our gross motor skills! The children worked so hard to choreograph and learn dances together!
World Book Day!
The children have LOVED dressing up in their pyjamas for World Book Day. It was also wonderful to share the children's favourite books plus their special teddies. In particular, the children enjoyed listening to the story of Elmer - Miss Peverelle's favourite! The children also enjoyed exploring our new role play - The Post Office - linking to our class story The Jolly Postman. Reception also created collage bookmarks and drew pictures of who they loved to share a story with. As a special treat, Year 3 came to join us in the afternoon and the children read to each other and shared their favourite stories. What a wonderful day we had!
A Special Visitor!
How lucky we were to have a nurse come to visit us in Reception class today. The children showed fantastic listening skills and asked lots of very interesting questions! We even had a go at listening through a stethoscope and some of us were wrapped up in a bandage! It was wonderful to see the children experimenting being doctors and nurses in the classroom over the rest of the day.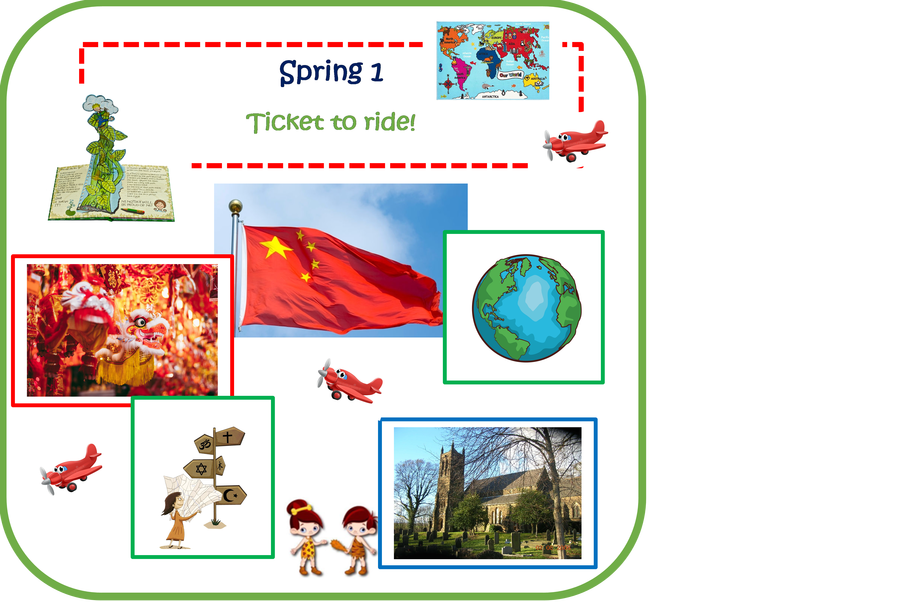 Spring 1 - Ticket to Ride!
Hello families. We hope that you all had a lovely Christmas and we would like to wish you all a very Happy New Year 2022. Can you believe that the children have completed a full term already in school? They're doing amazingly well.
This half term, we are becoming Geographers with our topic, 'Ticket to Ride'. We will begin by exploring our local environment and the natural world around us. This will include us going on a walk through our village and us noting what we see, smell, hear and can touch. We will also be using maps to record local landmarks. This topic will give us lots of opportunity to explore non-fiction texts and atlases.
Having visited our local church, we will learn a little about Christianity before sharing our next book, 'The most beautiful village in the world' which is set in an Afghan village. This will enable us to learn about Islam as well as explore some similarities and differences between life in this country and life in other countries. What is similar? What is different? Have you ever been to another country? Can you describe it? Can you listen to your friends and what they have to say?
In English, we will learn 'Jack and the Beanstalk' in our Talk 4 Writing learning before using the story structure combined with, 'The Runaway Wok' to create our own story linked to the next chapter of our learning which is Chinese New Year. We will look at Chinese New Year artwork, how people celebrate and think about how these compare to events we have experienced in our own lives. We will also be able to compare a street in China compared with where we live and we may even be able to make contact with a school in Shanghai!
In phonics we continue to practise our segmenting and blending to enable us to read phonetically decodeable books, as well as our tricky words. It is really important that the children read regularly at home to increase fluency in their reading, please. We introduced 'Bookflix' lessons towards the end of last half term to encourage the childrens' comprehension skills too and they're doing SUPERB with it!
In maths we will begin by understanding the meaning of 'Zero' before representing 4,5,6,7,8 and 9 in many ways. We will then move on to adding two amounts to find a total. As always, the children will have lots of opportunity to complete practical activities.
We will enjoy learning a new nursery rhyme each week as well as our Charanga music lessons!
The 3 prime areas of the EYFS curriculum are always at the forefront of all of our teaching:
This half term in Communication and Language, we will be focusing on:
Articulating ideas and thoughts in well-formed sentences

Connecting ideas using a range of connectives

Engage in many non-fiction books and listen to and talk about these to develop a deep familiarity with new knowledge and vocabulary

Participate in discussions offering ideas
In Physical Development, we will be focusing on:
Developing confidence, competence, precision, and accuracy when engaging in activities that involve a ball.

Developing confidence and agility when expressing ourselves in dance.

Developing fine motor skills (cutting/ gluing/ crafting/ pencil grip/ painting/ colouring/ playdoh/ peg boards)

Developing gross motor skills (running/ jumping/ skipping/ outdoor construction - deconstructed role play/ outdoor tubes/trikes/ bikes)
In PSED, we will be focusing on:
What it means to be a 'Fantastic Friend'

How to identify and moderate their own feelings socially and emotionally

How to be confident to try new activities

How to manage own basic hygiene and personal needs
We will also be having weekly Philosophy for Children and PSHCE lessons.
We cannot wait to see you all soon, we have so much fun to be had! :)
The EYFS Team
Spring 1 - Geography
This half term, our topic is driven by Geography. We will be asking developing many skills including: lots of questions, visiting local areas and comparing these places with others further a field and making many observations about the world in which we live.
We had great fun walking around our village and seeing all of the different parts. We particularly enjoyed seeing the farms and were lucky enough to see a tractor! We also saw the park, community centre, memorial garden and the oldest house in the village!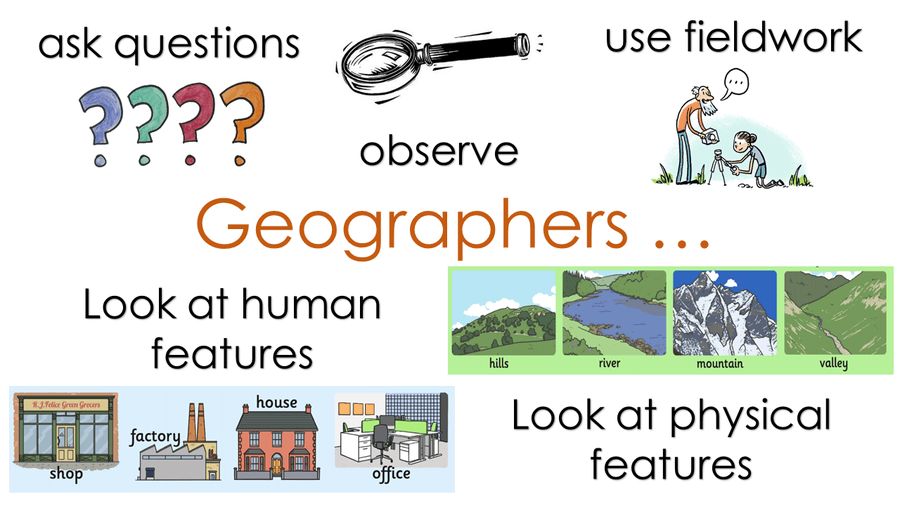 Spring 1 - Team work, Physical development, Communication and Language in action
It was an absolute pleasure catching the children in action with the tubing. We purposefully left the tubes and blue holders not set up and with lots of discussion, listening, questioning, sharing and team work they managed to not only set them up to use with the balls but altered the positions of the tubes to make the balls go faster and slower. Well done cave Kids - this is super progress!
Spring 1 - Physical development, Communication and Language and PSED in action
We left the tube blocks out for the children and with scaffolded discussion, they decided to build a track. Through team work and idea sharing, they built this amazing track and then wondered if they could balance on it. It was a joy to see the children showing such perseverance when they initially toppled off the blocks and such determination to get back on and have another go; we also had great discussions and idea-sharing around what helped us to balance more, could we put our arms out to help? How about changing the position of our feet? I wonder if we could all travel even further in coming weeks? I am sure we can!
Spring 1 - Learning about non-fiction books (atlases!)
This half term we are learning lots about non-fiction books. Here we are in our Bookflix lesson learning about front covers, titles and even the contents page. Sharing these atlases also helped us to practise our sharing, turn taking and listening skills - we also learned how to turn the pages carefully!
Spring 1 - Busy in provision (maths)
It was a pleasure catching these superstars in provision extending their maths learning independently!
Autumn 1

- All about me and how I've grown so far

This half term the main focus will be getting to really know the children as individuals. Over the summer, we have created lots of fun learning opportunities in our learning environment. In our classroom, your child will find many engaging areas:
Water and sand

Painting

Role play corner (a home)

Role play cafe

Dressing up area

Small world

Reading teepee

Maths

Construction

Junk modelling

Outside trikes

Squiggle station

Crafting

Play doh
And much more. Our teaching will be responsive to the children's interests and needs but we will begin with a topic based around your child, their interests, their home and family and comparing us as individuals. As the term progresses, we will be looking at how the children have grown so far from baby to toddler, to starting school and a few of the texts we will be using are: 'What I like about me!', 'You be you', 'Once there were giants', 'The growing story' and 'The great big book of families.'
We will keep you updated with all of our learning as we go - we cant wait to share what we get up to! :)
Our first two weeks of transition
What a wonderful two weeks we have had getting to know your children. It has been fantastic to see them exploring our classroom and outdoor space. Take a look at the photos below to see what they have been up to! :)
Our First Half Term
What a fantastic first half term we have had! It has been wonderful to see the children settle into school life and see them get to know each other.
Take a look at some of the exciting things we have been up to!
In particular, the children have been working on developing their fine and gross motor skills in lots of different areas of the provision. Towards the end of term, we have read the story 'Room on a Broom' and the children have had great fun exploring and decorating pumpkins. We even had a go at making our own pumpkin stew, involving lots of chopping, mixing and stirring. Whilst doing this, we had a go at using some magical language and casting our own spells! The story also inspired the children to retell the story through role play, enabling them to practice using some of the vocabulary. They particularly liked riding around on a broomstick!
We have also focused on developing the children's communication and language skills, and have used Philosophy for Children sessions to explain choices. One of our favorites was choosing between making potions or flying on a broom. Lots of children challenged themselves to use the conjunction 'because' in their sentence! The children also showed what fantastic listeners they could be. Well done!
This half term we have spent lots of time learning new sounds in phonics. We have had lots of phonics fun in the classroom, and found lots of exciting ways to help the children recognise and practice using the sounds. One of our favorites was the messy foam! Alongside this, it has been wonderful to see the children playing lots of games, helping them to embed their phonics knowledge and develop their cooperation and turn taking skills.
We are so proud of you Cave Kids!
_________________________________________________________________________________________________________________________________________________________________________________________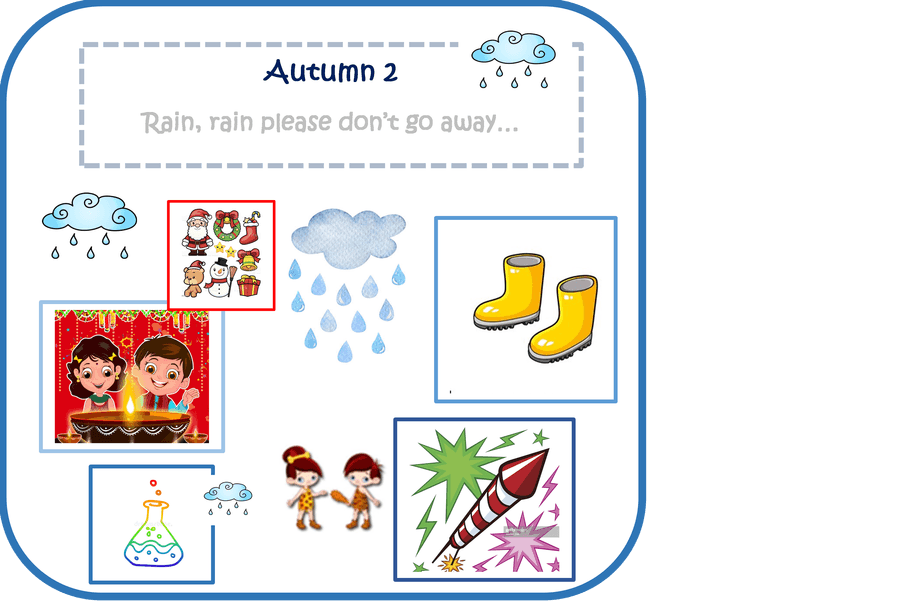 Autumn 2

- Rain, rain please don't go away!
It is full steam ahead as we move in to Autumn 2 and all the fun that awaits us! It is going to be a busy one!
We will begin by looking at the Cop26 event taking place and using our P4C skills to ask, 'Should we look after our planet?' We will then be making pledges of how we can help to save our wonderful planet. We will then move on to Diwali, exploring the celebration and what it means to those who celebrate it and try to link it to events in our own life that we celebrate.
Of course, then arrives the 5th of November so we will be looking at The Gunpowder Plot before moving fully on to our Science topic, 'Rain, rain please don't go away!' To support this topic, we will be reading books such as 'William Worm' and 'Out and about' by Shirley Hughes. We will be looking at the changes in seasons and we will be making observations to begin to ask questions about what we see in the world around us.
We will continue to have all the areas of continuous provision set up daily - inside and outside - the children have really enjoyed the new 'deconstructed role-play' area where they can use their imaginations to build dens and make signs for their new places to discover!
We continue to build maths skills practically and we will be focusing on number representation up to 3 and we are building on our mark making skills and doing a super job.
Of course - there will continue to be lots of singing and we must prepare for CHRISTMAS! We wonder if Father Christmas might send an elf to help spot superstars this December?
The children really have settled so beautifully and we could not be more proud of them, thank you for your continued support,
The EYFS Team
Autumn 2 - Cop26
This week, Cop26 took place which meant we had lots of important conversations about how we can help to look after the planet. We created our own globe, then used our fine motor skills to cut out and add on an animal, a sea creature and a plant we felt we would like to help protect in future and talked about the importance of looking after creatures great and small.
We also printed leaves and added quotes about how we can help in the future, it was very moving! Well done Cave Kids! :)
And here is the link to the book we read to help us learn all about this wonderful world in which we live!
Autumn 2 - P4C
We asked the question, 'Should we help to protect our planet in future and why/ why not?' We focused on using the word 'because' and listening to the person speaking, whilst looking at them. Everyone has a turn to place a counter on 'Yes' or 'No' and the chance to explain their thoughts to the whole class or partner. This was super learning, well done Cave Kids! :)
Autumn 2 - Diwali
Whilst learning about Diwali, we learned new words and made links between this celebration and those we celebrate at home too. The children enjoyed using their fine motor skills to create their own Diwali lamps and whilst doing so, we discussed what the 'festival of light' represents - aren't they lovely?
We used this book to help us learn about Diwali, the children loved re-enacting parts to help us understand how we prepare for this special celebration :) Click on the hyper-link below to listen to the story again!
Autumn 2 - Diwali
We also used our fine motor skills to paint rangoli patterns in bright colours as, as well as creating beautiful lamps too. In the maths area, we created further rangoli patterns using the band boards. We explained to our friends why we were putting each band where and practised our listening skills. Great job, Cave Kids! :)
Autumn 2 - Diwali
We watched this lovely clip all about Diwali, learned new vocabulary and talked about how this festival reminds us of celebrations we share with family and friends. We then re-enacted some of the huge clean up that happens for Diwali in our outside area, we were very busy bees! :) Click on the link below to enjoy the clip further at home!
Autumn 2 - Sticky finger maths
We love this game where we hide our fingers behind our back, then we show our fingers and see who has more or less in our pair! :)
Autumn 2 - Science
Autumn 2's topic is driven by science which means will be focusing on what it means to be a scientist and the skills we need! We will mainly be focusing on asking questions about the world around us :)
Autumn 2 - Bonfire Night
We have enjoyed learning the story of the Gun Powder Plot, and talking about the different ways we celebrate bonfire night. We had great fun making our own firework pictures and practicing new vocabulary as we looked at non fiction books. We have also started to enjoy pen disco, and had a go at drawing our own fireworks to music. This was great fun, and helped us to strengthen our fingers!
Autumn 2 - Remembrance Sunday
Learning about Remembrance Sunday helped us to understand how people celebrate different events and for different reasons, it also meant we could make links between this ceremony and others we may've experienced in the past. We had great fun whilst making poppy biscuits - it reminded us of times we have baked before - as well as printing our poppy pictures and making collage poppy pictures by scrunching and squeezing and developing our fine motor skills. We also enjoyed making cards and even had a go at writing our sounds inside, this reminded us of the times we've had cards sent to us before. Well done Cave Kids! :)
Autumn 2 - Snow!
Every day we use our calendar to sing about the days of the week, the months of the year and the seasons... We had learned that as Autumn turned to Winter, there * might * be a change in the weather that we'd notice, and it happened! We got SNOW! We had so much fun playing in it, whilst discussing how it felt and what happened to it if we held it in our hands long enough. We realised that it turned to water and then we wondered if we'd ever seen water freeze to ice? The snow fall reminded us of the other times we have had snow in the past and we really want to know just how cold it is in the North Pole? It was lovely to experience this with the children! :)
Autumn 2 - Science
This half term, we have been exploring the skills we will need to make us super scientists now and in our school years to come.
This experiment is linked to our current topic all about weather and allowed us to begin to make scientific observations and ask simple questions, with support.
It also allowed us to:
Make further observations about the natural world around us

Learn and put in to practise lots of new vocabulary (scientist/ experiment/ equipment)

Make comments about what we have seen and heard and begin to ask questions

Work co-operatively, and take turns even when faced with something really exciting to do!

Develop our fine motor skills when carrying out and recording our findings in pictures

Talk about times in the past when we have experienced a change in the weather
We had great fun, we hope you enjoy our video montage :)
_________________________________________________________________________________________________________________________________________________________________________________________